Over 55 years of Engineering Expertise
In 1965, engineer Albert Ravona established Ravona, a company that specialized in the production of high-quality stainless-steel apparatus for processing and manufacturing industries worldwide. Over the next several decades, Ravona grew in scope and reputation, and made a name for itself both locally and internationally. While Ravona's state-of-the-art manufacturing technology allowed it to deliver high-quality products, the true key to the company's success was its attentiveness to the needs of its customers.
In the 1990s, Ravona chose to focus exclusively on controlled environment and containment solutions. Serving customers in medical, pharmaceutical, cosmetics, chemistry, and bioengineering industries worldwide, Ravona's proven technical expertise continued to be the backbone for the company's growth and success.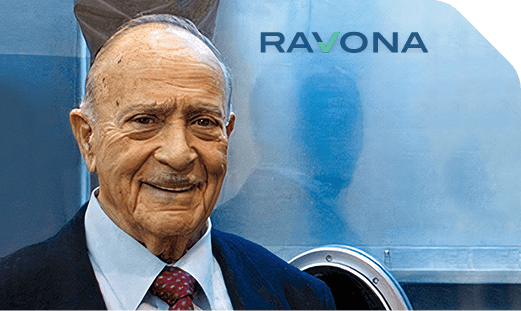 Innate Flexibility. Expert Service. Global Impact.
We are a global organization, but being a family-owned company is our greatest asset. It is the basis for our swift product delivery, manufacturing efficiency, flexible production, staff collaboration and customer relationships. We are able to make fast decisions that are promptly executed thanks to our streamlined organizational and technical structures.
We pride ourselves on our ability to provide leading global customers with customized containment solutions, which are expertly tailored to their needs. We are fueled by innovation at all levels, from planning and production to validation and product support. All of our products are manufactured in-house, in our advanced facilities, where we can ensure that our high engineering standards are executed to perfection.
Controlled Solution Excellence
In our eyes, excellence means more than delivering a top-level containment solution or providing great service. Our unique brand of excellence is based on the ability to look ahead and embrace new challenges. We invest in cutting-edge technology to continuously upgrade our products and services, so that our customers can experience a constant increase in productivity, quality, and efficiency. We always look to improve, because that is what our customers expect. It's also what they deserve.

We aspire to maintain our world-class leadership position in every aspect of our business by further developing our team leadership skills, which impact our product design, manufacturing and support.

We aim to remain at the forefront of our field, developing and integrating the most advanced containment solutions and controlled environment technologies.

We strive to work in close long-term collaboration with our customers, building solid relationships based on commitment and integrity.

Precision-Based Innovation

Service Excellence

Custom Engineering
Trusted Quality